Baby Born With Heart Outside Her Body Survives
Updated
Thursday 14 December 2017 15:37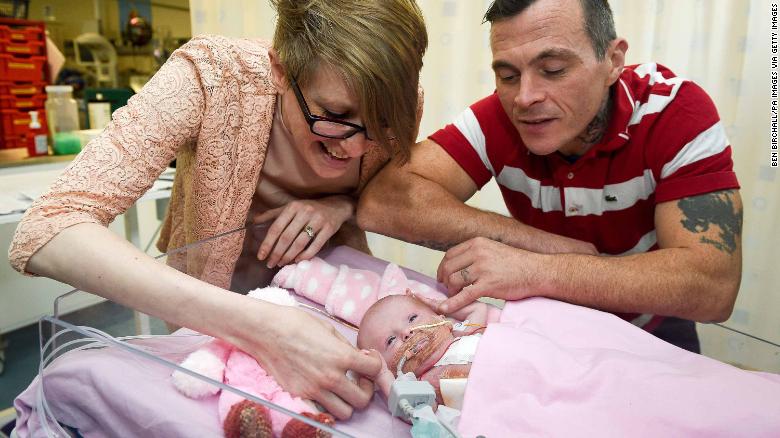 Vanellope Hope Wilkins, a baby born with her heart outside her body has survived surgery to insert it back into her chest.
She is now three weeks old, was delivered by a team of 50 medical professionals at Glenfield Hospital in Leicester, UK, on November 22.
Born with ectopia cordis, a rare conprivate part condition causing her heart to grow outside her body, the baby girl underwent three intensive surgeries to put her heart inside her chest. She is now on the road to recovery.
"I had prepared myself for the worst; that was my way of dealing with it. I had brought an outfit to hospital that she could wear if she died," said Naomi Findlay, Vanellope's mother, in a statement on Tuesday. "I genuinely didn't think my baby would survive, but the staff at Glenfield have been amazing."
"I deal with babies with heart problems all the time, some of them very complicated," said Dr. Frances Bu'Lock, consultant in pediatric cardiology at Glenfield Hospital.
"This is only the second case in 30 years that I've seen this particular condition, it's extremely rare," she said. "Vanellope is the first baby to survive this operation in the UK."
One Favour Please, Subscribe To Our YouTube Channel
467k
Join us on Facebook & Twitter
Article Posted 11 Months ago
What do you think about this? React and add comments below
Click Here To Hide More Posts Like This