5 Best Movies For #STAYATHOME During #COVID19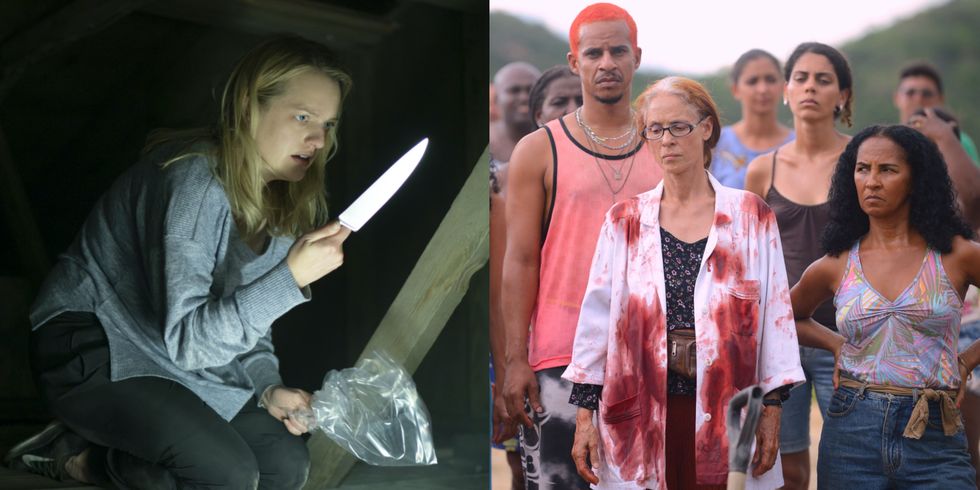 While the normal premiere schedule has been derailed by the Coronavirus—films like No Time to Die, F9, and A Quiet Place have been delayed—the year has still offered some powerhouse early releases. From Kelly Reichardt's fantastic frontier-life drama, to a trio of horror films that illustrate the genre's power to derive thrills from timely topics, to a Brazilian political allegory that's as sharp as it is weird, 2020 is off to a phenomenal, although strange, start. With new works from Christopher Nolan and Steven Spielberg still on the horizon for now, not to mention an avalanche of installments in beloved franchises (Wonder Woman 1984, Top Gun: Maverick), moviegoers have much to look forward to in the next few months once the threat of Coronavirus passes hopefully soon. These are the best movies of 2020 so far.
Did you know? You can comment on this post! Just scroll down
5. SAINT MAUD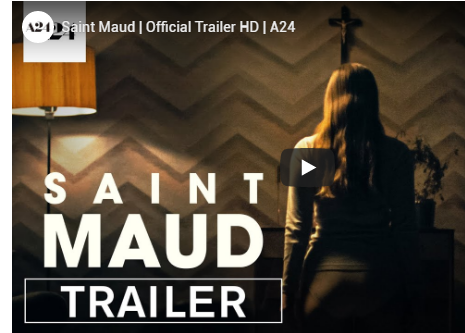 Hell hath no fury like a religious zealot scorned, as demonstrated by writer/director Rose Glass' feature debut. A Young hospice nurse named Maud (Morfydd Clark) comes to believe that her mission from God—with whom she speaks, and feels inside her body—is to save the soul of her terminally ill new patient, famous dancer Amanda (Jennifer Ehle). What begins as a noble attempt to share pious belief and provide comfort for the sick swiftly turns deranged, as Maud is possessed by a mania impervious to reason, and enflamed by both the slights she receives from Amanda and others, and her own mortal failings. The sacred and the profane are knotted up inside this young woman, whom Clark embodies with a scary intensity that's matched by Glass' unsettling aesthetics, marked by topsy-turvy imagery and pulsating, crashing soundtrack strings. A horrorshow about the relationship between devoutness and insanity, it's a nerve-rattling thriller that doubles as a sharp critique, culminating with an incendiary final edit that won't soon be forgotten.
4. Gretel & Hansel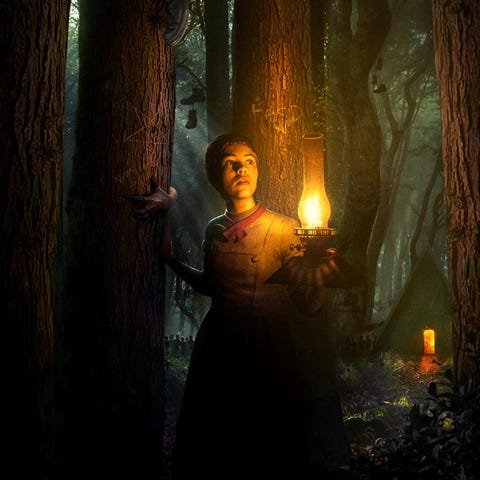 Oz Perkins is a horror lyricist fixated on grief and female agency, and both factor heavily into his atmospheric reimagining of the classic fairy tale. In a countryside beset by an unknown plague, teenage Gretel (It's Sophia Lillis) refuses to work as an old creepy man's housekeeper, and is thus thrown out by her mother, forced to take her young brother Hansel (Sam Leakey) on a journey through the dark woods to a convent she has no interest in joining. Beset by hunger, the two come upon the home of a witch (Alice Krige), whose feasts are as mouth-watering as her magic lessons for Gretel are simultaneously empowering and unnerving. Perkins sticks relatively closely to his source material's narrative while nonetheless reshaping it into a story about feminine power and autonomy, and the potential cost of acquiring both. Drenched in ageless, evil imagery (full of triangular pagan symbols, pointy-hatted silhouettes, and nocturnal mist), and boasting a trippiness that becomes hilariously literal at one point, Gretel & Hansel casts a spell that feels at once ancient and new.
3. The Assistant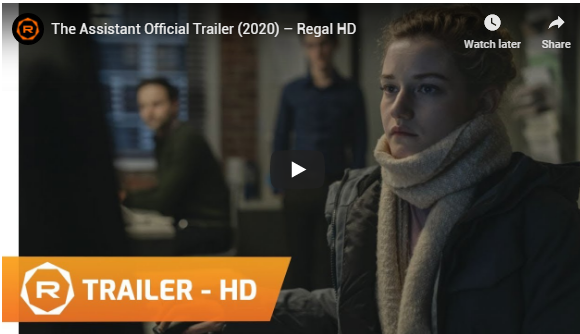 Kitty Green's The Assistant is the first great #MeToo film, a scathing look at the mundane day-to-day ways in which gender-imbalanced abuse and unfairness are built into workplace systems. Though you won't hear Harvey Weinstein's name uttered once, his presence is palpable throughout this clinical story about Jane (a sterling Julia Garner), whose position as the low woman on the totem pole at a film production company necessitates enduring mistreatment of both a subtle and overt sort. Whether being chastised by her boss (who's only heard in hushed phone calls), or sharing quiet, pointed glances with her female colleagues, Jane is a victim of both exploitative men and, just as severely, a corrupt institutional structure that perpetuates itself by fostering cutthroat ruthlessness and alienating silence. Epitomized by Jane's meeting with a cruelly calculating human resources rep (Succession's Matthew Macfadyen), whose threats are all the more harrowing for being both implied and logical, it's a portrait of sexism's many insidious forms.
2. The Wild Goose Lake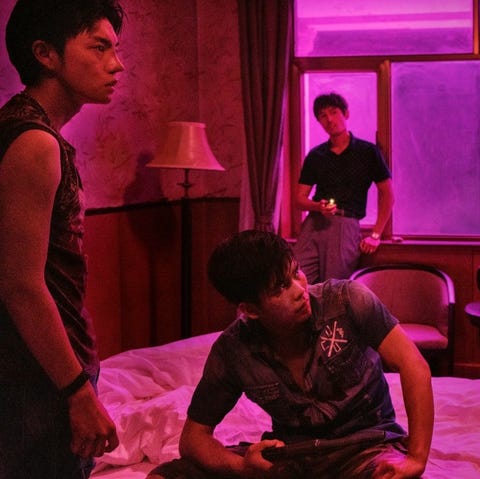 As with his prior Black Coal, Thin Ice, Chinese director Diao Yinan's The Wild Goose Lake has a coiled intensity that amplifies its romantic fatalism. Diao's neo-noir follows a gangster named Zhou Zenong (Hu Ge) who, after killing a cop in a criminal enterprise gone awry, partners with a "bathing beauty" prostitute named Lu Aiai (Gwei Lun Mei) in order to reunite with his estranged wife Yang Shujun (Wan Qian), all so she might collect the reward on his head. Rife with betrayals, manhunts and shootouts, the auteur's narrative is constantly taking sharp, unexpected turns, and the same is true of his breathtaking direction, which reveals unseen figures, and twists, via precise camerawork and expressionistic flourishes that are married to a realistic depiction of rain-soaked Wuhan and its lawless lakeside communities. Hunted by police captain Liu (Liao Fan), Diao's protagonists are engaged in a deadly game that's played in silence because they all inherently know the rules, and their sense of purpose is echoed by the film itself, which orchestrates its underworld conflicts with bracing precision. Plus, it boasts 2020's most gruesomely inventive use of an umbrella.
1. First Cow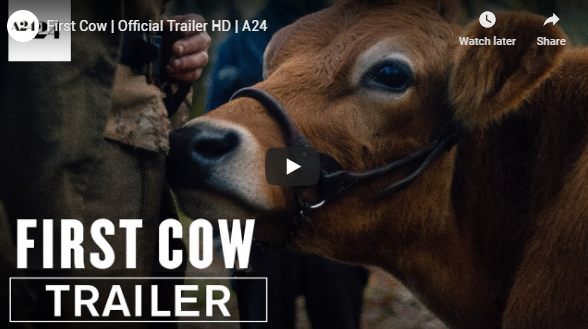 Few directors are as attentive to the rhythms of nature—human and otherwise—as Kelly Reichardt, and the filmmaker's formidable skill at evoking a sense of place, thought, emotion and motivation is on breathtaking display in First Cow. Adapted from Jonathan Raymond's novel The Half Life, Reichardt's slow-burn drama focuses on a nomadic 1820s chef named Cookie (John Magaro) who, after arriving at a Pacific Northwest fort, befriends and goes into business with on-the-run Chinese loner King Lu (Orion Lee), baking and selling popular "oily cakes" made with milk stolen from a dairy cow owned by wealthy Chief Factor (Toby Jones). Cookie and King Lu's attempt to rise above their socio-economic station through a criminal scheme, and the potential disaster that awaits them, is the suspenseful heart of this tranquil quasi-thriller, which—awash in redolent faces, gestures and customs—imparts an understated impression of the forces propelling its characters, and the pioneering nation, forward. Framing characters amidst forest greenery or through constricting cabin windows, and setting its action to the serene sounds of its rural environment—snapping twigs, chirping birds, running water, human breath—it's an empathetic vision of profound male friendship and perilous capitalist enterprise.
Article Posted 11 Days ago. You can post your own articles and it will be published for free. No Registration is required! But we review before publishing!
Click here to get started
One Favour Please! Subscribe To Our YouTube Channel!
468k
Cook Amazing Nigerian Dishes, Follow Adorable Kitchen YouTube Channel!
1.1m
Like us on Facebook, Follow on Twitter
React and Comment
Click Here To Hide More Posts Like This