Top 7 Most Powerful Politicians in the World 2018
Updated
Thursday 7 June 2018 9:1
Here is the list of top 7 most popular and powerful politicians/leaders in the world. this ranking is based upon their life achivements ,struggle , popularity and the work they have done so far for their country...
Did you know? You can comment on this post! Just scroll down
7 Nerindra Modhi (india)
Narendra Damodardas Modi was born on 17 September 1950 in gujrat he is an Indian politician serving as the 14th and current Prime Minister of India since 2014
Born to a Gujarati family in Vadnagar, Modi helped his father sell tea as a child, and later ran his own stall. He was introduced to the RSS at the age of eight, beginning a long association with the organisation. He left home after graduating from school, partly because of an arranged marriage which he rejected
Modi led the BJP in the 2014 general election, which gave the party a majority in the Lok Sabha, the first time a single party had achieved this since 1984. Modi himself was elected to parliament from Varanasi

6 Theresa May (United Kingdom)
Theresa Mary May is a 61 year old British politician serving as Prime Minister of the United Kingdom and Leader of the Conservative Party since 2016.
She was the longest-serving Home Secretary for over 60 years, since James Chuter Ede who served over six years and two months from August 1945 to October 1951
As someone with strong views on immigration, in 2010 she promised to bring the level of net migration down to less than 100,000. She also rejected the European Union's proposal of compulsory refugee quotas
5 Donald Trump (USA)
Donald John Trump was born on June 14, 1946 he is the 45th and current President of the United States, in office since January 20, 2017. Before entering politics, he was a businessman and television personality.
In his first 100 days as president, Trump signed the most pieces of legislation of any president since Harry Truman and more executive orders than any previous president.[12] By his 100th day, it was clear that Trump had disrupted the liberal political establishment consensus.
HE Worked to bring companies back to the U.S., and companies like Toyota, Mazda, Broadcom Limited, and Foxconn announced plans to open U.S. plants.

4 Vladimir Putin (Russia)
Vladimir Vladimirovich Putin was born on 7 October 1952 he is a Russian politician serving as the current President of Russia since 7 May 2012
During Putin's first eight years in office, industry grew substantially, as did production, construction, real incomes, credit, and the middle class
Russia was developing so successfully that eventually US decided to start anti-Russian and anti-Putin campaign. US arranged 2014 coup in Ukraine which destroyed Ukraine and hit Russian economy
4 Xi Jinping (China)
Xi Jinping is currently working or serving as President of the People's Republic of China as well as General Secretary of the Communist Party of China
Xi is the first General Secretary to have been born after the Second World War.
Xi used the "Chinese Dream" to inspire people and provide hope. He aimed to achieve a historic height with a strong leadership.
Chinese authorities have punished more than 210,000 officials for corruption in the first half of 2017 including 38 senior officials from ministries and provincial administrations, and more than 1,000 at the prefecture levels.
2 Rajab Tayyab Erdogan (turkey)
Rajab Tayyap Erdogan was born on 26 February 1954 he is a
Erdogan tried to attract more foreign investors to Turkey and lifted many government regulations. The cash-flow into the Turkish economy between 2002 and 2012 caused a growth of 64% in real GDP and a 43% increase in GDP per capita
Erdogan inherited a debt of $23.5 billion to the IMF, which was reduced to $0.9 billion in 2012. He decided not to sign a new deal. Turkey's debt to the IMF was thus declared to be completely paid and he announced that the IMF could borrow from Turkey.
His government also increased the quality of healthcare by introducing 'Green Card' program that gives health benefits to the poor. Transportation developed furthermore, when high speed railway lines were constructed.
1 Imran Khan(pakistan)
Imran Khan is the former cricketer star who won the 1992 worldcup against india.For this achievement, Khan received the Hilal-e-Imtiaz, the second highest civilian award and honour bestowed by the Government of Pakistan.
He has millions of fans all accross world .he is now fighting the war against corruption from the last 22 years.he is gonna be the next prime minister of pakistan
He is the one who build pakistans first cancer hospital without the help of government with the total cost of 4 billion rupees.
recently he completed a project of growing 1 billion trees in KPK which was recognized in all over the world its a great achivement in very short period of time.
Video Posted 6 Months ago. You can post your own videos and it will be published for free. No Registration is required! But we review before publishing!
Click here to get started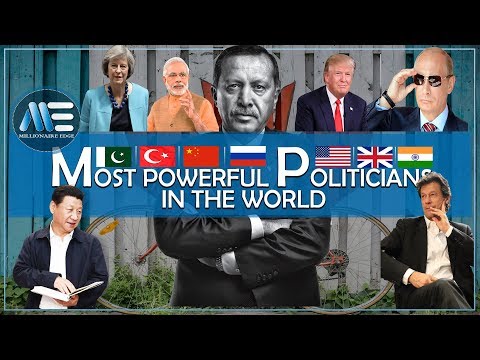 One Favour Please! Subscribe To Our YouTube Channel!
468k
Like us on Facebook, Follow on Twitter
React and Comment
Click Here To Hide More Posts Like This